Excellence
More than 100,000 customers can't be wrong: they've rated us VERY GOOD. After all, we magically turn multiple photos into one piece of art.
Speed
We can deliver with our 24 hour express service, because you'll want your mosaic on time when you've planned it as a present.
Good value
You receive a free preview of your mosaic made from your pictures. If you like the mosaic photo, you have the possibility to buy it in XXL format.
---
Generating a Mosaic Photo - How it works…
---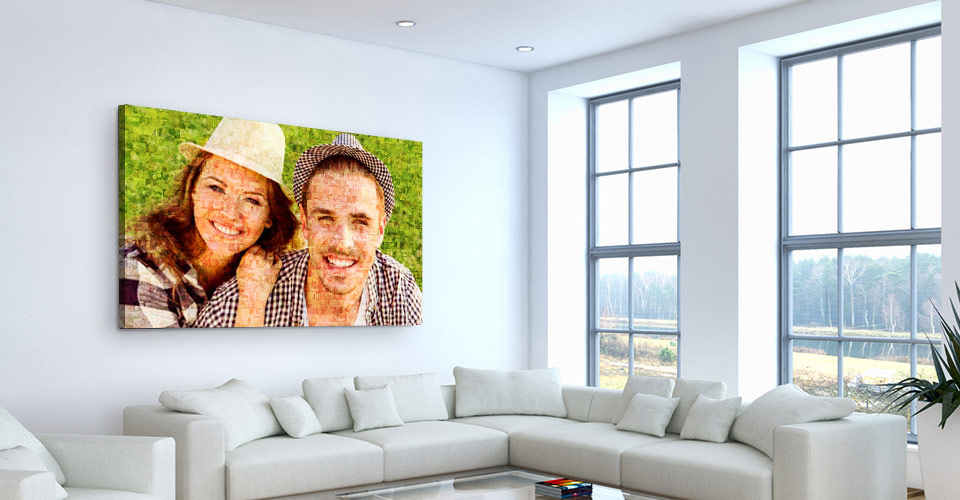 Ready to be shipped: Tuesday, 19 Jan 2021 Start here
---
Mosaic pictures printed on glass
Upload up to 1,000 of your own photos – the individual images will appear in a printed size of 2cm
The mosaic preview is always free of charge in two versions
Only high-quality materials such as canvas, poster or acrylic glass are used for printing
Many sizes available with 24 hours overnight service
Mosaics also available in XXL format of up to 2 metres. Special formats on request
---
Here's what our customers say: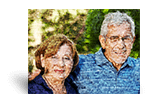 John B., York
I ordered the photo mosaic on Monday and on Wednesday it was already there. My wife was thrilled. And that doesn't happen very often…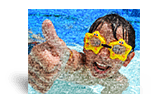 Steven M., Leicester
The mosaic was designed to be a present and the recipient was absolutely delighted. Excellent quality and super-fast delivery. I'm more than satisfied and would order again from you in the future.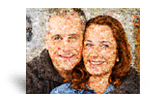 Sarah B., Inverness
The canvas looks really great! SUPER! I couldn't believe it was already done when the courier was standing on the doorstep. Thank you so much! I will definitely recommend you.
---
Things to know about our Mosaic Photo
How long does it take to create a photo mosaic?

Pretty fast: You just upload your photos and we will create your mosaic within a couple of hours. After that you will get two free versions of your mosaic. If you want your mosaic being printed, we can send it to you within 24 hours.

Do I need a special mosaic software?

Nope! You need 3 things only: a smartphone or computer, internet access and - of course - your photos. So, there is no need of downloading or installing a software.

Do I have to pay for creating the mosaic?

No you don't. We will create your mosaic and send you 2 previews. The preview is always for free. If you like the mosaic you can have it printed on e.g. poster or canvas. So only by this printing order costs will occur.

How many photos can/should I use?

You need at least 30 photos + 1 photo for the main image. You can upload up to 1,000 single pictures for your mosaic. The more photos you're transferring the better the result.

How large will the final mosaic be?

The

smallest printing size is 60 x 40 cm

. You can have your mosaic printed

up to 150 x 100 cm

directly via our website. For larger sizes or print runs

just get in touch with us

.

What's the size of the single images?

The small images will always be 2,5 cm wide. This size is the perfect balance between single images and main photo: you can clearly see the all images within a single large mosaic.

What's the required minimum resolution for the uploaded photos?

The small images need 640 x 480 px or should have 0.5 MB at least. The main image requires 2 MB or 3 megapixel. Although the required resolutions seem to be small they will work perfectly for the mosaic. However, the resolutions should not be smaller than that.

Which printing materials can I choose from?
---
---
Choose your favourite material
Canvas from £69.00
Acrylic glass from £99.00
Alu-Dibond from £89.00
Poster from £29.90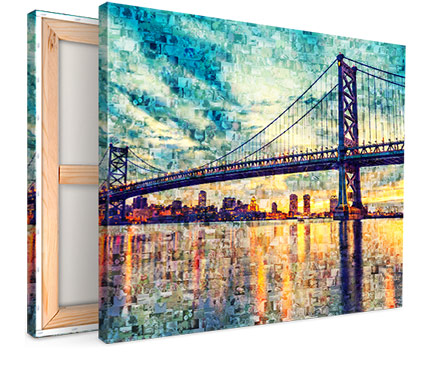 Canvas information
Canvas of 100% real cotton
Framed and ready to hang on frame
Latest HP© print technology
75-years colour warranty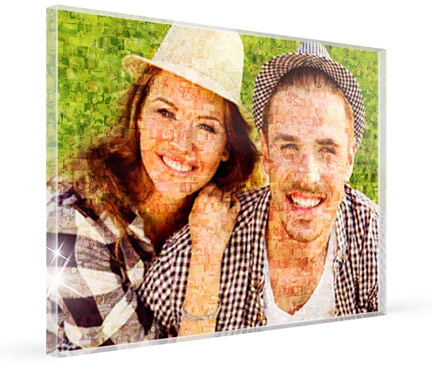 Acrylic glass information
High-gloss acrylic glass
Océ – Canon™ print technology
Up to 200 years light resistance
3 mm or 8 mm glass thickness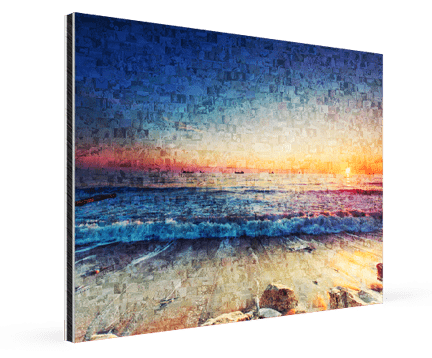 Alu-Dibond information
Alu-Dibond by Thyssen Krupp©
Océ – Canon™ printing technology
Up to 200 years light resistance
Semi-gloss finish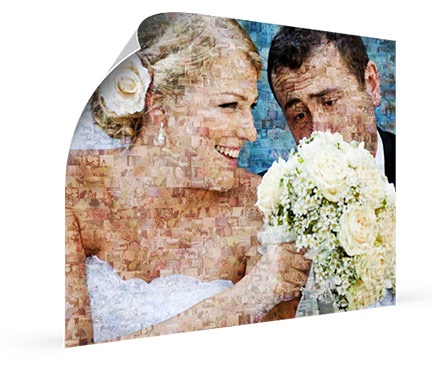 Poster information
Fuji Color® premium poster paper
HDR® colour system EPSON® UltraChrome®
Up to 200 years light resistance
---
You can print your picture mosaic on various materials. The canvas mosaic is particularly popular. A Photo made of photos is particularly impressive when printed on canvas.The cheapest option for printing a mosaic is the mosaic poster. Other products:
Basically, a mosaic photo is a large photo made of photos. And making a mosaic is much easier than you would imagine because you can make a large image using many small photos easily these days. And the result is fascinating: lots of little photos make up a large image.
When you generate a mosaic with photos, you first need plenty of images. You should have at least 100 photos. After all, the photo mosaic will be particularly impressive the more photos are used for one image. For this reason, the rule is: more is better.
The mosaic pictures are particularly popular as gifts for various occasions. If you want to find out more about the mosaic, a detailed description is available under "What is a photo mosaic". Want to keep memories of your furry BFF alive? With a Dog Photo Mosaic you can capture the best photos in just one image.
In order to generate a picture made of pictures, you don't need photo mosaic software or a local installed photo mosaic maker anymore. A photo mosaic can be made quite simply online.
If you are searching for a photo mosaic app, you can also use our website to make a mosaic picture for free.