Here's what our customers say ❤️
Alfie B.

Review in United Kingdom

Product: Mosaic Verified purchase

Unfortunately, my delivery arrived later, despite 24 hours of service, but this was not the fault of company, but from UPS. I was reimbursed the additional payment immediately. The quality is very good and we are very satisfied

Stephan D.

Review in Goole

Product: Mosaic Verified purchase

Excellent quality, colours was perfect and delivery was on time

Paul H.

Review in United Kingdom

Product: Mosaic Verified purchase

Top quality and excellent service .

Rosanna

Review in Chippenham

Product: Mosaic Verified purchase

So easy to do and such a quick response with the choice of 2 pictures

Lloyd

Review in London

Product: Mosaic Verified purchase

Service, speed & delivery were excellent

Helen H.

Review in United Kingdom

Product: Mosaic Verified purchase

Gift for my mums 80th. She was absolutely delighted. A simple upload of around 150 photos from my iPhone created this amazing image. A very simple order process followed by an email image being sent minutes later to approve before going ahead. I'll definitely do this again. Thank you

Howard P.

Review in Somerton

Product: Mosaic Verified purchase

Fantastic canvas, images are all clear and the suprise from my girlfriend was amazing. Still trying to work out how many images I used, but is still some way off the correct answer.

Tina

Review in 2uh

Product: Mosaic Verified purchase

Easy to navigate compared to other sites, prompt efficient service highly recommend

BRENDAN

Review in GLASGOW

Product: Mosaic Verified purchase

I was amazed how simple the whole process was from start to finish, and how incredible the finished product has turned out to be. I can't wait till Christmas morning for my Daughter & Son in Law to open this wonderful gift which displays a very happy memory of the two of them together created with hundreds of mini photos of their two boys growing into the young men they are today. What a truly wonderful gift this is for anyone to give or to receive.

John B.

Review in United Kingdom

Product: Mosaic Verified purchase

The entire process was simplicity itself and the interest and genuine enthusiasm for my project was a joy and quite unusual. Delivery through UPS was slow and rather disjointed, possibly due to the Platinum Jubilee but my mosaic did arrive and it is superb. Thank you to everyone concerned with its production.

Claudia K.

Review in Ware

Product: Mosaic Verified purchase

Ease of process in developing picture

Emma

Review in Nottingham

Product: Mosaic Verified purchase

Love love love ...... its exactly what I wanted. Brilliant quality, exactly like the option I picked, will use again for future events. O love how.i can see all wedding photos in 1 picture. Had so many comments about it. Came in a great time too.
---
Excellence
More than 100,000 customers can't be wrong: they've rated us VERY GOOD. After all, we magically turn multiple photos into one piece of art.
Speed
We can deliver with our 24 hour express service, because you'll want your mosaic on time when you've planned it as a present.
Good value
You receive a free preview of your mosaic made from your pictures. If you like the mosaic photo, you have the possibility to buy it in XXL format.
---
Generating a Mosaic Photo - How it works…
---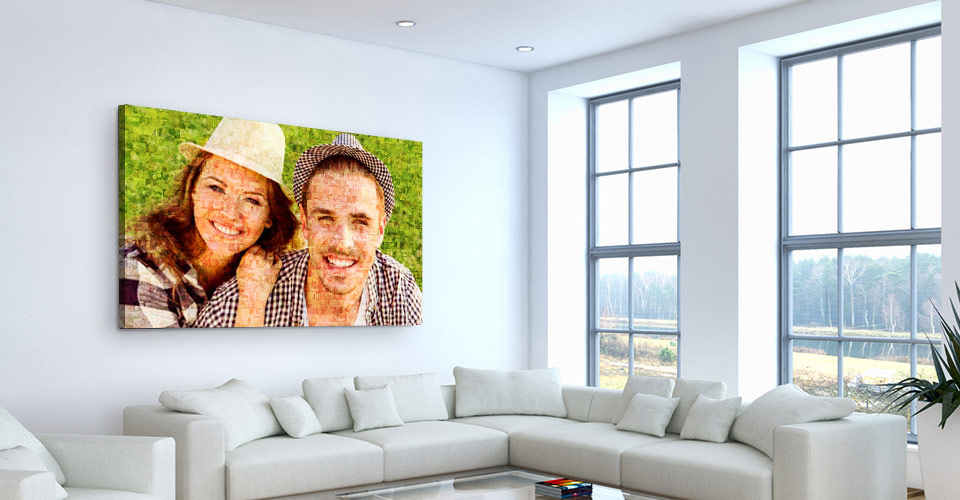 Ready to be shipped: Friday, 8 Dec 2023 Start here
---
Mosaic pictures printed on glass
Upload up to 1,000 of your own photos – the individual images will appear in a printed size of 2cm
The mosaic preview is always free of charge in two versions
Only high-quality materials such as canvas, poster or acrylic glass are used for printing
Many sizes available with 24 hours overnight service
Mosaics also available in XXL format of up to 2 metres. Special formats on request
---
Here's what our customers say: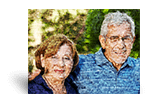 John B., York
I ordered the photo mosaic on Monday and on Wednesday it was already there. My wife was thrilled. And that doesn't happen very often…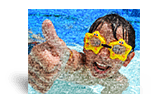 Steven M., Leicester
The mosaic was designed to be a present and the recipient was absolutely delighted. Excellent quality and super-fast delivery. I'm more than satisfied and would order again from you in the future.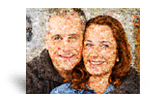 Sarah B., Inverness
The canvas looks really great! SUPER! I couldn't believe it was already done when the courier was standing on the doorstep. Thank you so much! I will definitely recommend you.
---
Things to know about our Mosaic Photo
How long does it take to create a photo mosaic?

Pretty fast: You just upload your photos and we will create your mosaic within a couple of hours. After that you will get two free versions of your mosaic. If you want your mosaic being printed, we can send it to you within 24 hours.

Do I need a special mosaic software?

Nope! You need 3 things only: a smartphone or computer, internet access and - of course - your photos. So, there is no need of downloading or installing a software.

Do I have to pay for creating the mosaic?

No you don't. We will create your mosaic and send you 2 previews. The preview is always for free. If you like the mosaic you can have it printed on e.g. poster or canvas. So only by this printing order costs will occur.

How many photos can/should I use?

You need at least 30 photos + 1 photo for the main image. You can upload up to 1,000 single pictures for your mosaic. The more photos you're transferring the better the result.

How large will the final mosaic be?

The

smallest printing size is 60 x 40 cm

. You can have your mosaic printed

up to 150 x 100 cm

directly via our website. For larger sizes or print runs

just get in touch with us

.

What's the size of the single images?

The small images will always be 2,5 cm wide. This size is the perfect balance between single images and main photo: you can clearly see the all images within a single large mosaic.

What's the required minimum resolution for the uploaded photos?

The small images need 640 x 480 px or should have 0.5 MB at least. The main image requires 2 MB or 3 megapixel. Although the required resolutions seem to be small they will work perfectly for the mosaic. However, the resolutions should not be smaller than that.

Which printing materials can I choose from?
---
---
Create a stunning photo mosaic with your favourite pics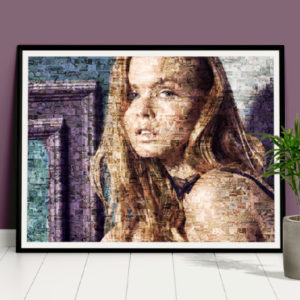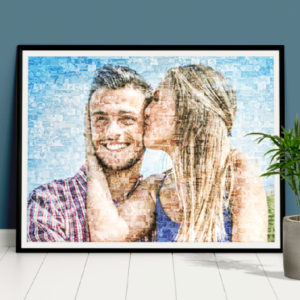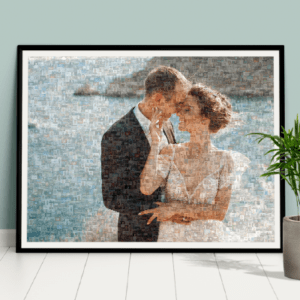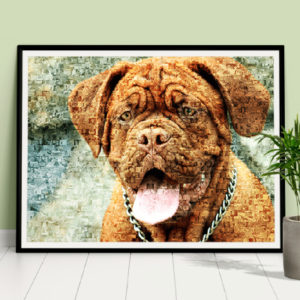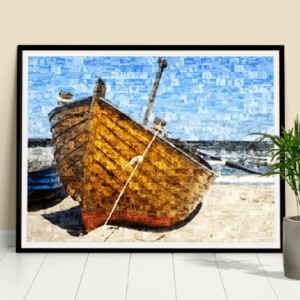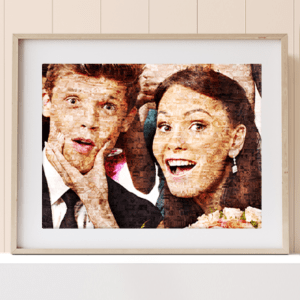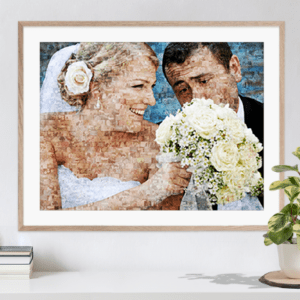 ---
The photo mosaic - one image from a thousand pictures
Already in antiquity, the mosaic with its small stones and tiles adorned villas and palaces. Just like then, in the photo mosaic many small photos are put together to form one whole image.
This makes the mosaic photo a particularly clever way of photo printing: although it still looks like a normal image from a distance, the many small photos become visible on closer inspection.
Gift that feeling of "us" with the mosaic image
The mosaic image is also the perfect gift idea, not least because of its beautiful symbolic statement: "The whole is more than the sum of its individual parts". It's not just about the feeling of community – it's ultimately about those little moments that make up our lives. These make the mosaic visible and thus capitalise on the abilities of photography to capture emotional memories.
If you want to gift your mosaic as a birthday present, for example, you can gather many small pictures of the birthday boy or girl and combine them into a large portrait. But also as a retrospective wedding gift or as a loving Christmas greeting, the mosaic image is the perfect choice.
And it is just as beautiful as a farewell gift or a souvenir of a lovely time together. So, you can even choose school photos, club pictures or photos from the office as the basis for your mosaic image.
Create a photo mosaic: What you need to know
Mosaic images always consist of one large main photo and many smaller photos. The main image determines the motif and thus also to a large extent the effect of the mosaic. Therefore, you should always choose it first.
Large, clear motifs are best suited in this regard. To get started creating the mosaic image, you also need at least 30 small photos. But it's even better if you use 100 or even 1,000 photos for your mosaic.
It is important for the selection of the small pictures that the motif is clearly recognisable.
Since the small pictures on the finished mosaic are only 2 to 2.5 cm in size, small motifs are rather less suitable. After printing, they would be so small that the image wouldn't be clearly recognisable even on closer inspection. While the main photo should have a minimum resolution of 2 MB, 0.5 MB is sufficient for the small photos. Depending on how many images you want to use for your mosaic, you can also play around with the final format: the smallest size we offer is 60 x 40 cm, the largest 150 x 100 cm.
Once you have defined the main image, the small, individual photos and the format of your photo mosaic, you can still choose from different image media.
You have the choice between canvas, acrylic glass, poster paper and aluminium-Dibond. When selecting the printing medium, you should think about where the finished image will be hung in the end.
Did you know: To ensure the best possible quality, we always send you a free preview of your mosaic image. You place your order for a print, subject to a fee, only when you are completely satisfied with it.
5 tips for unique mosaic images
1. Don't be afraid of colour: When creating the mosaic, the small, individual photos are matched to the colours of the main photo. This results in a homogeneous impression and your main motif comes out better.
2. It doesn't always have to be a portrait: Most of the mosaics ordered from us are full-frame portraits. This is a nice idea - especially if you want to give away your photo mosaic as a present. Nevertheless, it is also worthwhile to look at object photos, animal motifs or landscapes. Depending on what the recipient associates with the specific motif, there are no limits on the imagination in this regard.
3. Play around with different formats: It often happens that the small photos are in different formats. This can look particularly interesting in the final result. Our software detects these discrepancies. As a result, the images are no longer precisely tile-shaped, but rather are arranged in a special grid.
This enhances the puzzle effect of the mosaic, which often looks very original. So if you are open to a special effect, you should choose a good mix of landscape and portrait-format images!
4. Use as many photos as possible: Although you can create beautiful mosaics even with 30 shots and a main image, it is definitely worth using more than 100 different photos as a basis. If you consciously use more images, you will achieve a particularly even and elegant look. On average, our customers use about 150 small photos for their photo mosaic.
5. Use repeated images in a targeted manner: Particularly in cases where you want your mosaic to have a clearly defined theme, you may not always have 100 to 1,000 photos from one particular photo shoot or area to play around with.
Fortunately, this is not a problem at all: if you find yourself with too few individual images, the algorithm will optimally arrange the images you do have. In fact, these image repetitions create a super-exciting memory effect in the end, which really draws the viewer's gaze into the mosaic image.
---
Choose your favourite material
Canvas from £69.00
Acrylic glass from £99.00
Alu-Dibond from £89.00
Poster from £29.90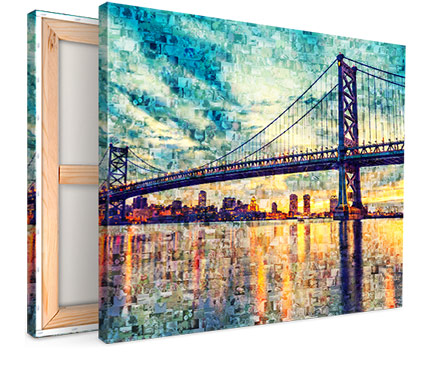 Canvas information
Canvas of 100% real cotton
Framed and ready to hang on frame
Latest HP© print technology
75-years colour warranty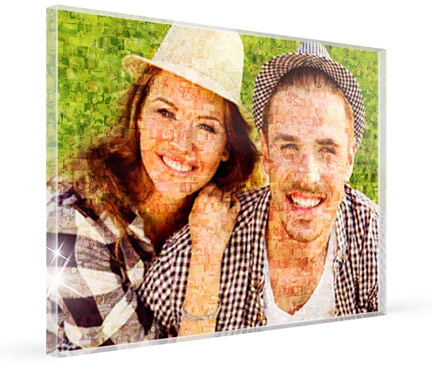 Acrylic glass information
High-gloss acrylic glass
Océ – Canon™ print technology
Up to 200 years light resistance
3 mm or 8 mm glass thickness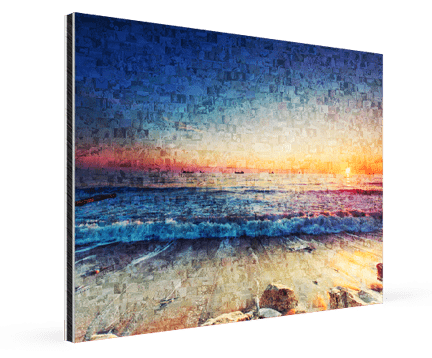 Alu-Dibond information
Alu-Dibond by Thyssen Krupp©
Océ – Canon™ printing technology
Up to 200 years light resistance
Semi-gloss finish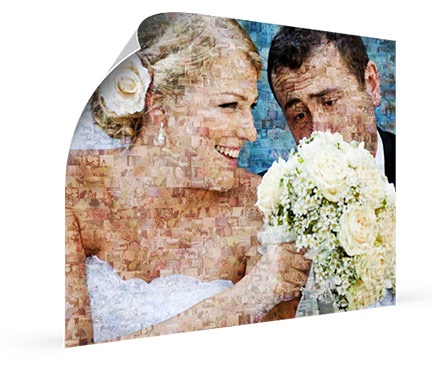 Poster information
Fuji Color® premium poster paper
HDR® colour system EPSON® UltraChrome®
Up to 200 years light resistance
---
You can print your picture mosaic on various materials. The canvas mosaic is particularly popular. A Photo made of photos is particularly impressive when printed on canvas.The cheapest option for printing a mosaic is the mosaic poster. Other products:
Basically, a mosaic photo is a large photo made of photos. And making a mosaic is much easier than you would imagine because you can make a large image using many small photos easily these days. And the result is fascinating: lots of little photos make up a large image.
When you generate a mosaic with photos, you first need plenty of images. You should have at least 100 photos. After all, the photo mosaic will be particularly impressive the more photos are used for one image. For this reason, the rule is: more is better.
The mosaic pictures are particularly popular as gifts for various occasions. If you want to find out more about the mosaic, a detailed description is available under "What is a photo mosaic". Want to keep memories of your furry BFF alive? With a Dog Photo Mosaic you can capture the best photos in just one image.
In order to generate a picture made of pictures, you don't need photo mosaic software or a local installed photo mosaic maker anymore. A photo mosaic can be made quite simply online.
If you are searching for a photo mosaic app, you can also use our website to make a mosaic picture for free.